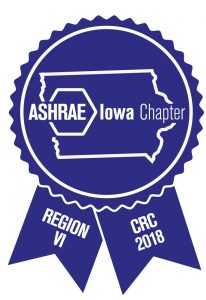 Come Join us on May 3, 4 & 5, 2018 for the ASHRAE Region VI Chapter Regional Conference (CRC). It is being held in downtown Des Moines at the Marriott Hotel.
See the pages listed below and above in the main menu for information and to register. All registration is online and payment will be through PayPal. If you need to make other arrangements, please contact anyone on the CRC committee.
As you enjoy CRC, we would like to encourage you to post on social media (like our Facebook page) and use the #R6CRC18 and #MyASHRAE whenever you do. Who knows, you may get famous!
Society President Bjarne Olesen's recollection of 1978.
---
See these pages for more information
---
How to get around

Here you will find a Google map of the locations for all CRC related events

If you want to navigate the Des Moines Skywalks, we recommend checking out the 

Catch Des Moines

 page to download the app or view the skywalk map

See the accommodations page for a map of the hotel's 2nd and 3rd floors – where you'll be spending a good portion of your time
---
What the whole thing is about
See the Event Brochure also for all the details – it will be updated regularly as we add content.
---
GRAND CHAMPION SPONSORS

---
BLUE RIBBON SPONSORS
---
RED RIBBON SPONSORS
---
YELLOW RIBBON SPONSORS
---
WHITE RIBBON SPONSORS
---
Contact Luke Miller if you would like to sponsor.