Construction Update:
The Marriott will be undergoing a substantial renovation during CRC. Hotel registration will be on the second floor as they will be renovating the lobby area on the first floor. Unfortunately, the City Center Lounge and Starbucks will also be closed! Plan on using the hospitality suite!
---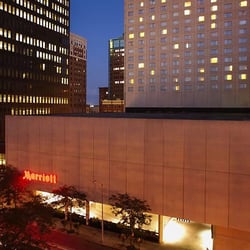 Marriott Downtown
700 Grand Avenue
Des Moines, IA 50309
MAP
Start date: 5/3/18
End date: 5/5/18
Last day to book: 4/12/18
Marriott hotel(s) offering your special group rate:
Des Moines Marriott Downtown  for $129.00 USD  per night
Book your group rate for ASHRAE CRC 2018 – Region VI
---
Click HERE to see a pdf of the hotels 2nd and 3rd floor.
---
Walking distance to many nearby attractions and conference events.
Connection to the Downtown Des Moines Skywalk System.
Awesome hotel amenities, including: swimming pool, whirlpool, fitness center, a Starbucks Kiosk, and the City Center Lounge.
---
Parking Info
8th and Locust – parking ramp – $1.00/hour w/ max $10/day – access hotel from skywalk or street
Hotel valet – $24/night
---