Formerly known as Technical, Energy and Government Activities (TEGA)
ASHRAE Technology Awards, recognizes ASHRAE members who design and/or conceive innovative technological concepts that are proven through actual operating data. Awards are given for new and retrofit applications for several categories of buildings, industrial facilities and processes. Chapter award winners can be submitted into Regional competitions, and Regional winners are invited to compete for Society level Awards. Applications are judged with respect to energy efficiency, indoor air quality, innovation, operation & maintenance, cost effectiveness, environmental impact and quality of presentation.
Please remember, the project you are submitting must have been successfully operating for at least one year at the time of entry.
Society level award winners get written up in the ASHRAE Journal.
---
2017-2018 Year Deadlines:
Chapter Level: March 1st, 2018
Regional Level: April 1st, 2018
Society Level: September 1st, 2018
NEW FOR THIS YEAR:
A $100 prize will be awarded to one chapter level first place winner in each of the six submission categories.
The categories are:
Commercial Buildings
Institutional Buildings
Health Care Facilities
Industrial Facilities or Processes
Public Assembly
Residential
See the Society website for additional information and links to submission forms, requirements an sample submissions.
Contact Peter Ernzen at Peter.J.Ernzen@IMEGcorp.com or (319) 594-3532 or Matt Swenka at matts@twgi.com or (515) 271-9911 for more details and to submit entries.
---
Current Iowa Chapter Winner
2017 Iowa Chapter Winner – Mark Hersch – Market 1
Link to the 2017 Iowa Chapter First Place Submission
---
Previous Iowa Chapter Winners
2016 Iowa Chapter Winner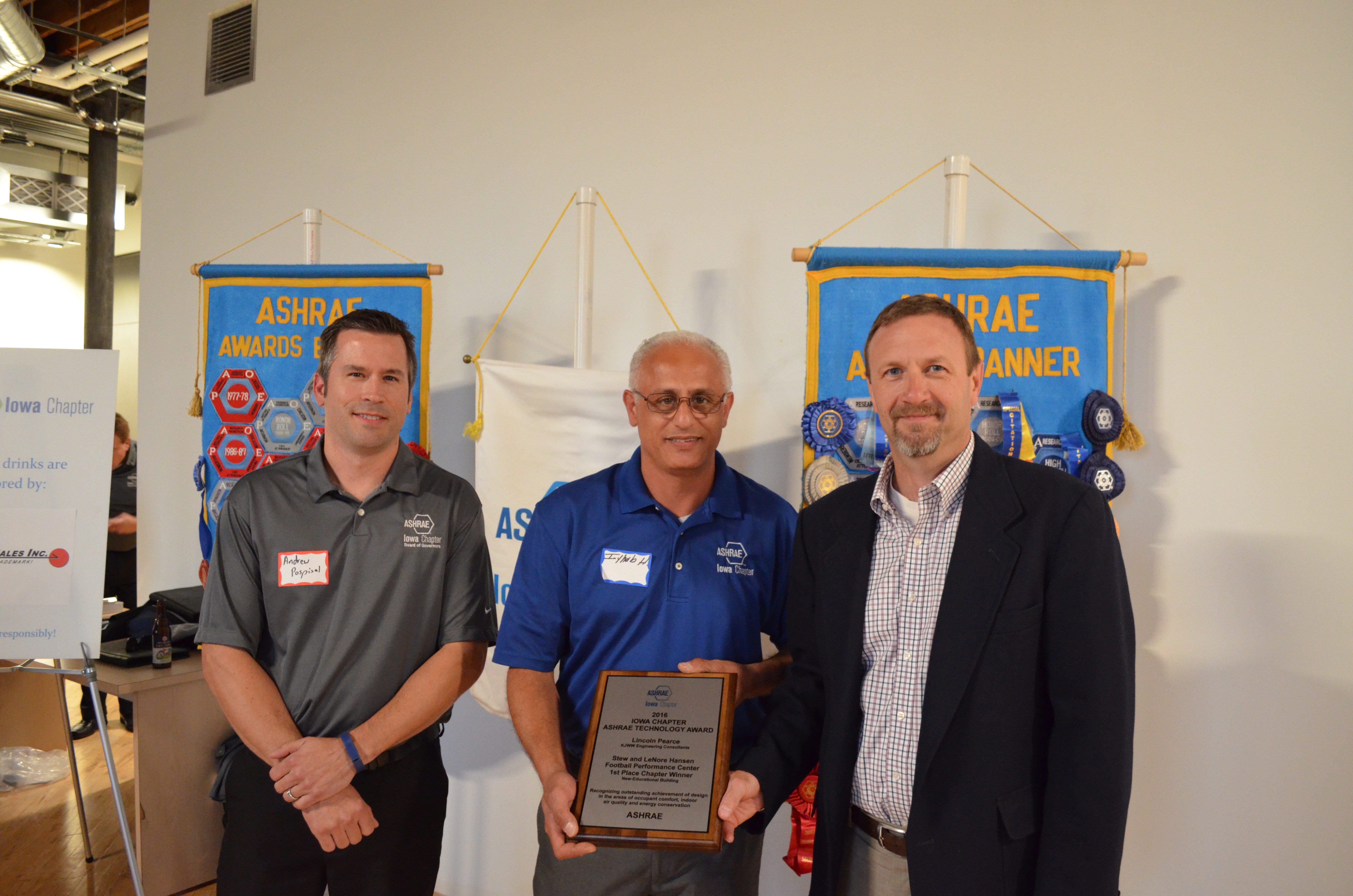 Lincoln Pearce – University of Iowa Football Performance Center
2015 Iowa Chapter Winner
Ryan LePera – Neal Smith Federal Building